What is a Dealer Surety Bond?
A Dealer Surety Bond is a financial guarantee that auto dealers use. It shows their trustworthiness and financial stability to the public. This bond protects against any fraudulent activities from the dealer. Most states require a surety bond for an auto dealership license.
If there's a breach or violation, the affected party can claim damages worth the bond amount from the surety company. This type of bond benefits car buyers and promotes integrity and credibility between dealers and manufacturers. The cost depends on factors such as credit score, experience, and company size.
There are various dealership bonds like new cars, used cars, motorcycle bonds, etc. Frauds have happened in the auto industry, like selling hundreds of cars without passing them off as used. This is why it's essential to have a Dealer Surety Bond.
Importance of Dealer Surety Bond
To ensure compliance with state laws and regulations and protect your customers from fraudulent activities, your dealership must have a dealer surety bond. This provides a safety net for your customers and boosts your business reputation and credibility. In this section, we'll explore the benefits of having a dealer surety bond with sub-sections focusing on protecting Customers from Fraudulent Activities, Compliance with State Laws and Regulations, and Boosting Business Reputation and Credibility.
Protection of Customers from Fraudulent Activities
Surety bonds for dealers are essential to keep customers safe from fraud. It adds a layer of trust between the customer and the dealer, ensuring they stick to state laws. Obtaining a surety bond shows financial responsibility and commitment to ethical business.
Customers can become victims of illegal reselling and deceptive sales without a bond. If damages occur due to these activities, customers can make claims on the bond. This guarantees any valid claim is paid out, keeping customers safe from financial losses.
Surety bonds differ from insurance policies. They focus on preventing fraud and ensuring laws are followed rather than covering damages caused by accidents or unintentional losses.
Compliance with State Laws and Regulations
To obey state laws, Dealer Surety Bonds are a must. They guarantee that dealerships will be financially responsible for their actions and that they will operate ethically.
These bonds also protect customers from fraudulent activities. If the dealership breaks the contract or does something illegal, affected parties can make a claim against the bond for compensation.
Each state has different requirements for Dealer Surety Bonds. The bond amount may be increased depending on the size of the dealership or its operations. Dealerships must be aware of their state laws to avoid legal issues.
Working with a knowledgeable surety bond provider is advisable to stay compliant with the regulations. Make your business more reliable by getting a Dealer Surety Bond. It's the perfect way to show customers you can be trusted!
Boosting Business Reputation and Credibility
A Dealer Surety Bond provides clients with peace of mind and security. It boosts your business's reputation and credibility. Getting one shows clients that you can be trusted and their financial interests are protected.
In the event of fraudulent or dishonest practices, the bond covers losses incurred by your clients. It also proves your commitment to ethical business practices.
These bonds act as insurance for state regulations compliance. This is essential for any automotive business. Most states in the US require them to ensure dealerships comply with regulations.
By obtaining these bonds, dealerships meet regulatory requirements and avoid legal penalties. Around 5% of car purchases involve some form of fraud or deceit. A dealer surety bond helps protect against this.
National Automotive Dealers Association (NADA) recommends reputable insurance companies back up dealer surety bonds. This ensures quick claims settlements and prevents customers from facing delays when seeking compensation.
All in all, dealer surety bonds are vital for automotive businesses. They boost reputation and credibility while protecting against potential risks. Get one – it's easier than getting your kids to clean their room (but just as important)!
How to Obtain a Dealer Surety Bond
To obtain a dealer surety bond for your dealer license, select a reputable surety company to provide the bond. Determine the bond requirements specific to your state and complete the bond application and underwriting process. Finally, pay the bond premium to secure the dealership surety bond.
Determine Bond Requirements in Your State
When obtaining a dealer surety bond, it is crucial to determine the particular requirements for your state. Each state has its unique requirements, so it's essential to know precisely what you need before submitting your application.
Research the Bond Requirements: Conduct thorough research on your jurisdiction's bond requirements. Many states require dealers to obtain a minimum amount of coverage; some may need additional policies or different types of bonds.
Know Eligibility Criteria: The eligibility criteria for each state also differs regarding credit scores, business history, experience, etc. Make sure you are familiar with them before approaching potential bonding agencies.
Hire a Bonding Agency: Finding the right bonding agency is essential as they will inform you of the unique requirement of each state and guide you through the procedure until completion.
Remember that getting a dealer surety bond differs from state to state. Success in one place does not guarantee success in another.
Statista Magazine states that the Surety Bond market size is predicted to be around $32 billion by 2027.
Do not choose a questionable surety company, as it will likely cause issues.
Select a Reputable Surety Company
To get a reliable surety bond for your dealership, choosing a trusted surety company is essential. Here are some points to keep in mind while making the selection:
Check the rating and reputation of the surety company via online reviews, testimonials, or referrals.
 Ensure the surety company is certified and licensed by state authorities to issue bonds in your locality.
Find out if the surety company specializes in auto dealer bonds or offers diverse bond offerings.
Get quotes from multiple firms and compare their prices and terms before deciding.
Look for customer support and services like claims handling, timely renewals, cancellation processes, etc.
Read and understand the bond agreement carefully to avoid hidden costs or penalties.
Picking an unreliable bonding company can lead to legal issues or financial losses. So, make an informed decision after careful research.
When looking for a reliable surety company, it is wise to consider companies that have been around for many years and have established relationships with banks and other financial institutions.
Complete Bond Application and Underwriting Process
The bond application and underwriting process must be completed when applying for a dealer surety bond. This involves providing information and documentation to the bonding company for evaluation.
Pay Bond Premium
Apply for a dealer surety bond. The amount you need to pay varies by state and type of bond. Reach out to the bonding company to pay your bond premium. Use payment methods such as debit/credit card, EFT, or check. Keep a copy of documents, receipts, and invoices related to payment transactions. Don't delay premium payments – this may result in fines. In 2010, Alabama State law imposed a surety bond for motor vehicle dealerships. Bonding companies saw a growth in demand, changing their client base. Get your shady dealings covered with surety bonds!
Types of Dealer Surety Bonds
To fully comply with the legal requirements of obtaining a dealer license, you must know which type of dealer surety bond works best for you. This section, "Types of Dealer Surety Bonds," with its sub-sections, New/Used Auto Dealer Bond, Motorcycle Dealer Bond, RV Dealer Bond, and Boat Dealer Bond, provides suitable solutions for every specific dealership type.
Auto dealers must secure a surety bond as mandated by state law. This agreement ensures dealers abide by all relevant laws and regulations, safeguarding buyers from misconduct.
The 'New/Used Auto Dealer Bond' amount varies from state to state.
Motorcycle Dealer Bond
A "Dealer Surety Bond" is mandatory for dealers who sell vehicles. Let's focus on the "Motorcycle Dealer Bond."
Required by: Motorcycle dealers
Bond Amount: Usually $5,000 to $25,000, as determined by State Law
Purpose: Protects customers from the dealer's shady business practices.
In addition to the general Surety Bond obligations, Motorcycle Dealers must get a Dealer Bond to prevent any fraudulent or illegal actions from happening, like forgery or fraud.
RV Dealer Bond
RV dealership bonds are needed to protect consumers from fraud or broken promises.
Dealers must buy these bonds to operate, and they differ based on state requirements and the dealer's financial background.
These bonds are important for protecting people and helping dealers by boosting credibility and giving them a competitive edge. Plus, it shows a commitment to ethical business.
It's estimated that six hundred thousand Americans buy an RV every year, and RV dealerships number over 7,200 nationwide – so don't forget the bond!
Boat Dealer Bond
Boat dealerships require dealer surety bonds as a guarantee for customers that the dealership is following regulations and properly selling boats. It also protects customers from any misconduct or illegal activities by the dealer.
These bonds are vital for boat dealerships, as they build trust with customers and ensure compliance with regulations. This leads to a positive reputation and increased business.
Boat dealer bonds are state-specific, and the bond amount varies depending on sales volume and whether or not repair services are offered.
To ensure boat dealer bonds are effective, businesses should conduct thorough employee background checks and set strict ethical guidelines for their staff. This can prevent actions that may harm customers or lead to legal repercussions.
Putting surety bonds in place for the boating industry is critical to ethical decision-making. And be aware – these bonds don't come cheap!
Costs of a Dealer Surety Bond
To understand the costs of a dealer surety bond, you need to know the factors affecting bond premium rates and how to save money on bond premiums. Credit score, business financials, and industry experience impact the bond premium rates. In the next sub-section, we will explore how to save money on bond premiums.
Factors Affecting Bond Premium Rates
Multiple factors affect the premium rates of dealer surety bonds. They can make the bond more expensive or cheaper. We'll explore these factors and how they impact the cost of a dealer surety bond.
Credit score: Higher credit scores lead to lower rates.
Business experience: More years in business can reduce premiums.
Type of bond: Riskier bonds come with higher rates.
Bond amount: Higher amounts make it more costly.
Some states have specific bonding requirements which may influence premiums. Underwriters sometimes offer discounts for certain businesses, like veteran-owned companies or low-income startups.
A customer recently shared his story about getting an affordable bond for his dealership. He said researching and comparing quotes helped him find the best fit for his business at an affordable price. So, don't have trust issues, bond with your dealer for lower premiums!
How to Save Money on Bond Premiums
There are strategies when it comes to reducing costs for a Dealer Surety Bond. 6 ways to save money:
Improve Credit Score
Explore Multiple Options
Shop Around for Quotes
Choose a Higher Deductible
Show Financial Responsibility and Stability
Renewal Rewards Programs (where applicable)
Factors like experience, financial condition, disciplinary history, and prior claims influence the cost. To get a fair premium, these factors must be kept in check.
Many firms have benefited from Dealer Surety Bond programs. They offer flexible pricing and coverage.
Renewing or Canceling a Dealer Surety Bond
To renew or cancel your dealer surety bond, you must follow the specific guidelines for each process. The renewal and cancellation processes play an important role in maintaining your surety bond for a dealer license. In this section, we will discuss the steps you need to take to renew and cancel your auto dealer surety bond, along with their respective requirements and timelines. We will explore the renewal process and cancellation process in detail.
Renewal Process
You must keep your surety bond active and up-to-date to stay a dealer. The Renewal Process is a must to stay compliant with state regulations. Here's a 6-Step Guide on how to Renew your Dealer Surety Bond:
Start the process in advance.
 Fill out the renewal application.
Send the application to your surety provider.
Check and sign any documents.
Pay the renewal premium.
Get your renewed bond and file it with the right agency.
Every state may have special requirements for Dealer Surety Bond renewals. For example, some states may need evidence of financial responsibility or updated background checks. So, it's essential to check details regarding your project's location.
Remember, you can face severe legal and financial penalties if you don't renew your surety bond. It could lead to cancellation of license privileges or suspension of business operations.
Renewing a Dealer Surety Bond will give you assurance while letting you keep providing services according to state regulations.
If you want to cancel your dealer surety bond, remember it's not that simple – there's no opt-out clause.
Cancellation Process
When it comes to canceling a Dealer Surety Bond, it's essential to do it right. Any mistakes can cause legal problems for both parties. Here are five steps to take:
Send a written notice to the surety company who issued the bond.
State the reason and when you want the cancellation to take effect.
The bond must not be terminated within a certain period from the issue date (usually 30-90 days).
The surety company will check if there are any pending claims against the bond before releasing the cancellation.
Any unused premium paid is refunded.
Be aware of the state laws and regulations about the cancellation process.
It's best to read the contracts and agreements before signing something binding like a dealer surety bond. This can avoid problems down the line.
Also, work with knowledgeable insurance providers. They can help with every step of the process.
By following the right Cancellation Process for your Dealer Surety Bond, you can make sure everything is handled legally and ethically. No future problems! Why not just call your surety bond provider and ask them to explain it like you're five?


Frequently Asked Questions (FAQs) about Dealer Surety Bonds
To get a dealer license, you need a dealer surety bond. You might have several questions in mind regarding this surety bond. Here are some frequently asked questions (FAQs) about dealer surety bonds to clear your doubts. We will cover topics such as what is a dealer license surety bond and its difference from insurance. You will also learn about the consequences of bond claims, how to obtain a dealer surety bond, and various bond requirements for different dealerships.
What is a Dealer License Surety Bond?
A dealer surety bond is necessary to get a motor vehicle dealer license. It's an agreement between the dealer, the bonding company, and the state licensing agency. Should a dealer break any rules, affected parties can seek compensation from the surety. The goal? To ensure trustworthiness, financial responsibility, and ethical conduct.
Dealer license bonds come in many forms – new or used car dealerships, boat dealerships, motorcycles, and auto auctions. Rates differ per state and may depend on personal credit, business finances, and qualifications.
It's important to remember: your state may require specific forms. So check regulations on coverage amounts and expiration dates when you apply.
Pro Tip: Do your homework. Each state has different laws and procedures for dealer license bonds. Don't get stuck in the red – do your research first!
Who needs a Dealer Surety Bond?
A Dealer Surety Bond is a must for anyone selling vehicles. It ensures they follow state laws, protecting car buyers from harmful practices.
States have different rules, but many new & used car dealers, motorbike sellers, & RV dealers require one. Plus, those in wholesale auto auctions or brokering transactions may need one too.
Not all Surety Bonds are the same, though. Automotive-specific ones are best for meeting state regulations.
This year (2023), According to Urban Science's annual Automotive Franchise Report, there are 18,257 franchised new car dealerships across the US. Without a Surety Bond, these dealers could be in trouble!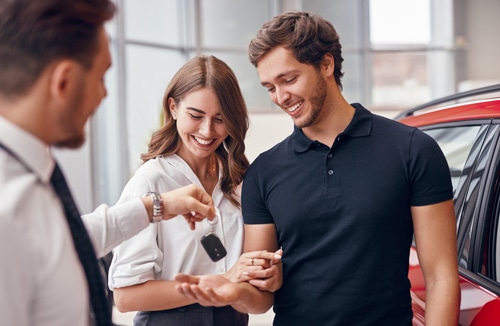 What happens if a Dealer fails to obtain or maintain a Surety Bond?
Not securing or maintaining a Surety Bond can lead to legal and financial penalties. This could involve revoking the license to operate, hefty fines, or even jail time in some jurisdictions. It is, therefore, essential that dealers prioritize obtaining and staying up-to-date with their Surety Bonds.
Also, there are more than just regulatory compliance issues at stake. Dealers without this security measure may have difficulty gaining trust in the market and connecting to credible partners. In legal disputes, not having a Surety Bond can endanger their chances of recovering from any financial losses.
What is the difference between a Dealer Surety Bond and Insurance?
Comparing Dealer Surety Bonds and Insurance reveals some major differences.
Dealer Surety Bond Insurance
A legal agreement among three parties – Principal, Obligee, and Surety. Protects customers from dealer fraud, misrepresentation, or illegal activities. A financial product that gives coverage to policyholders in an emergency. Reduces the holder's liability for losses due to any unexpected events.
The bond ensures dealership follows state and federal laws in the auto sales industry. In a violation, penalties or claims can be made against the bond. Insurance covers various aspects such as collision damage, third-party incident liability, medical costs for injured parties, etc.
The bond premium is usually 1%-15% of the total amount, based on credit score, experience, etc. Insurance premium varies according to vehicle value, geographic location, etc.
Also, dealerships needing to do business across states must have multiple bonds and not just one insurance policy.
So get your Dealer Surety Bond now! Enjoy complete protection and ensure appropriate trading practices. It's easier than making a TikTok video – but don't expect it to go viral!
How long does it take to obtain a Dealer Surety Bond?
Getting a Dealer Surety Bond can take a few minutes to a day, based on the surety company's approval process. The time it takes depends on the applicant's credit score and financial stability. It's best to start the application process early to give enough time for any follow-ups or corrections.
The duration to get a Dealer Surety Bond varies based on credit scores, financial abilities, and surety companies' approval processes. Experts suggest starting the bonding application before the due date as corrections or fixing issues may take longer. All legal requirements must be followed without rushing through.
It's important to note that there are instances when obtaining a Dealer Surety Bond has taken longer than usual. This delay could have been avoided if applicants had submitted complete and accurate documentation. Thus, it's always best to make sure all legal documents and details are provided entirely for swift processing of the dealer bond.
How soon can a Bond be canceled or renewed?
Dealer surety bonds can be canceled or renewed at any time by the principal. It's up to the obligee to accept or reject the bond modification. The surety company also has the right to cancel. Renewal usually occurs annually, and the bond expires when its duration is done.
Proper notification should be sent to all affected parties when a bond is canceled. If renewal isn't possible, then it's okay to acquire a different bond from another surety's home state.
Note that a previously canceled bond can be reinstated, but with penalties paid and under particular conditions. Its length won't reset, though.
How can a Dealer apply for a Surety Bond?
When a dealer needs a surety bond, reach out to a provider. Give info about the business, finances, and other details. The provider will underwrite the bond and decide the premium based on risk factors. To get the best rates, keep your credit score good and have funds ready.
Purchase the bond online or from a broker and get proof of coverage required by law. Renew the bond each year before expiry. If not, it may result in fines or legal trouble. Ask the provider for renewal requirements and deadlines.
A dealership in California faced penalties from the DMV for not renewing in time. They had to close until a new bond was obtained. This caused lost revenue and damaged customer relationships. Renewal requirements are crucial to keep in mind!
What are the consequences of Bond Claims?
Making a bond claim against a dealer can have serious consequences. The dealer may have to pay the claim, and their surety bond premium could increase or even be canceled. This could lead to the revocation of their license and legal penalties.
Dealers must understand their bond obligations and promptly address any issues. Otherwise, more claims could be filed, causing more significant financial losses.
Bonding companies may also take legal action against dealers who don't meet their bond obligations. This can damage their credit rating and reputation. So, dealers must always stay vigilant and obey legal boundaries when dealing with customers.
For example, an auto dealer failed to honor a warranty claim and was sued. The bonding company paid the harmed party on behalf of the dealer. Then, the bonding company sued the dealer for breaching the contract. They recovered the settlement amount, plus additional fees and costs from the dealer.
Can a Dealer have multiple Bond Claims?
When it comes to Dealer Surety Bonds, multiple claims may be issued. These bonds are used for transactions within a business. For example, if a motor vehicle dealer sells vehicles with hidden issues and doesn't compensate customers, multiple claims could be filed against their bond.
Understanding Bond Claims and taking precautions to minimize them is essential. Too many Claims can harm reputation and credibility. Knowing how to handle these cases professionally can protect people from financial loss and legal disputes.
In 2020, some dealerships were investigated for consumer complaints. If dealerships don't provide satisfactory services, they may face penalties such as license suspension.
In conclusion, understanding the factors leading to multiple Bond Claims is key for dealership owners to maintain a good reputation in their industry.
Are there different Bond Requirements for different types of Dealerships?
Different dealerships need different bond requirements to operate legally. This is because of the different state rules and the type of vehicles sold. For example, used car dealers have different surety bond needs than motorcycle or RV dealers.
The bond amount also depends on the dealership kind. Generally, states expect a minimum bond amount, but some could ask for more based on sales or other criteria.
Before applying for a dealer surety bond, getting info about your state's demands is vital. Get help from a reliable surety bond provider to make sure you meet the state's bond requirements.
It's a great idea to compare rates from various providers before getting a dealer surety bond. You may find better deals that save money and satisfy all the state laws. Remember that having proof of financial responsibility through bonds improves the dealership's reputation and trustworthiness with customers and lenders.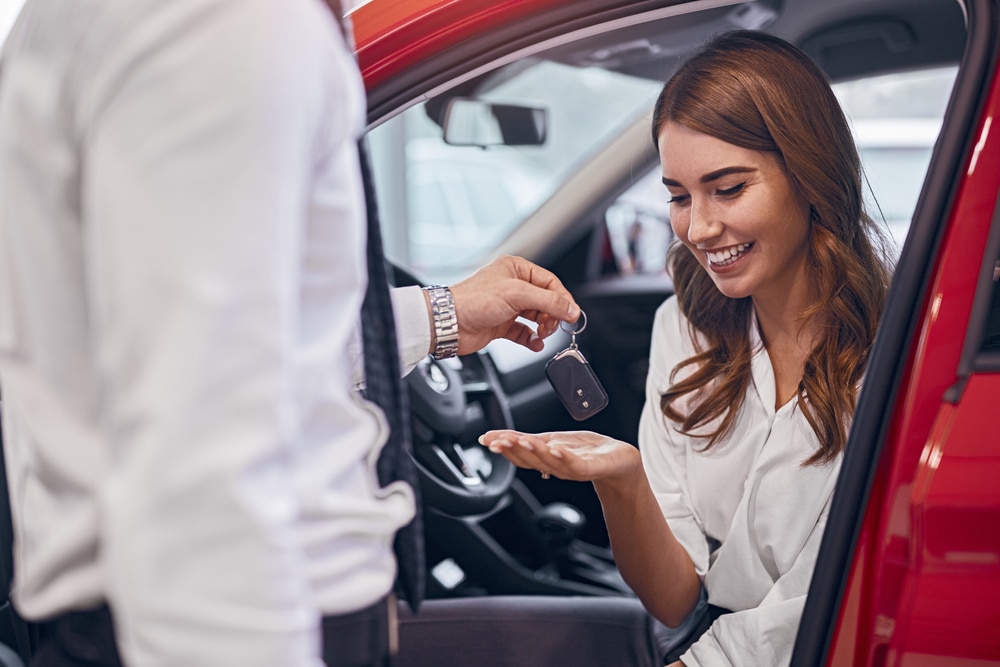 Frequently Asked Questions
1. What is a Dealer Surety Bond?
A dealer surety bond is a type of bond that auto dealerships must purchase to obtain their dealer license. The bond acts as a financial guarantee to ensure that the dealership follows all laws and regulations related to selling vehicles.
2. Why do I need a Surety Bond for a Dealer License?
By law, auto dealerships must obtain a dealer license before selling vehicles. A surety bond is a requirement of the licensing process to ensure that the dealership operates according to state regulations.
3. What is the cost of a Dealer Surety Bond?
The cost of a dealer surety bond varies depending on the state you are located in and the amount of coverage required. Typically, the cost is a percentage of the bond amount, ranging from $10,000 to $100,000.
4. How long does a Dealer Surety Bond last?
The term of a dealer surety bond varies by state, but it typically lasts for one year. After the term expires, the dealership is required to renew the bond to maintain its license.
5. What happens if I don't have a Dealer Surety Bond?
If an auto dealership does not have a dealer surety bond, they cannot obtain or renew their dealer license. This means they cannot sell vehicles legally and could face fines or other penalties.
6. Can I get a Dealer Surety Bond with bad credit?
It is possible to obtain a dealer surety bond with bad credit, but it may be more difficult and expensive. Working with a surety bond broker who can help find options for dealerships with less-than-perfect credit is recommended.