As a notary, it is your duty to protect clients from potential financial harm and ensure that you are in compliance with the law. To guarantee protection for both parties involved, investing in notary insurance bond should be taken into consideration. This form of coverage will cover any damages resulting from errors or omissions made by yourself as well as provide cyber liability protection against risks such as data breaches and fraud attempts. By having this sort of insurance on hand, notaries can confidently assure their clients they have been provided full-coverage along with legal security while ensuring personal safety at all times.
Key Takeaways
Notary Insurance Bond provides financial and legal protection for both notaries and their clients.
Notaries must be aware of the bonding requirements in their state to protect themselves from potential losses or damages.
Cyber liability insurance also safeguards notary businesses against cyber threats, providing an additional layer of security when conducting online notarizations.
Understanding Notary Insurance Bond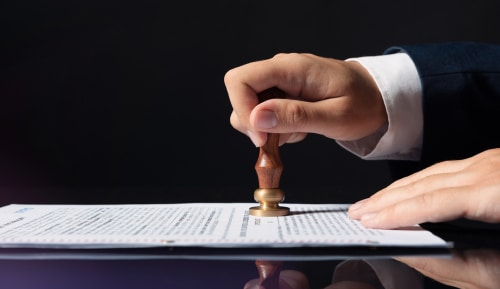 Most states require a notary to have an insurance bond that acts as proof of their financial responsibility. This is done by way of a surety company issuing bonds in order to guarantee any losses or damages incurred if the notaries do not fulfill their duties appropriately. When such circumstances arise, there may be grounds for submitting claims against this bond. And when the claim is valid, those affected can receive remuneration up to the amount secured under said bond issued by the company.
The Role of a Notary Public
Notaries are essential for the legality of documents due to their authentic signatures that guarantee validity. Notary insurance bonds provide both clients and notaries protection from possible negligence or misconduct, as well as financial reimbursement in the event a lawsuit is filed against them. Errors & Omissions (E&O) Insurance and Cyber Liability Insurance can be instrumental safeguards when it comes to errors made during the notarization process by providing coverage from data breaches and unintentional mistakes respectively. In sum, these types of insurance offer necessary protection allowing clients peace-of-mind throughout every step of the document authentication process.
Components of a Notary Insurance Bond
Notaries must be aware of the components and functions involved in obtaining a notary insurance bond, as this is essential for providing financial accountability to their clients while safeguarding themselves. The three parties being: the surety company who offer up the bond amount security by guaranteeing reimbursement should valid claims be made on it. The principal, i.e.,the notary himself/herself responsible for procuring said bond. And lastly, an obligee usually constituted by state or county notary licensing authorities whom are owed obligations. With these necessary provisions in place along with appropriate knowledge, Notaries can fulfil their roles without risk of major liabilities occuring due to potential events happening down-line..
Acquiring a Notary Surety Bond

Securing a notary bond is a straightforward process and can be done with ease, as there are many ready-made bonds available for purchase and instant download. Different states may have different requirements when it comes to obtaining the necessary surety bonds, but getting them remains quick and simple.
A legally binding agreement between the obligee (the public), principal (notary) and surety company ensures that financial compensation is provided should damages occur due to wrongful notarization by said individual bonding company or entity. It's of upmost importance that all potential Notaries understand their responsibilities in regard to securing these certainties of protection from any kind of liabilities arising out of incorrect actions on their part relating to performing this vital service they provide.
State Requirements and Differences
Notaries should be aware of the particular requirements for acquiring a bond in their state, as this can significantly affect both the cost and process. In Pennsylvania, notary bonds protect customers from losses if certain duties are unfulfilled. Liability may reach up to $10,000. Even though notary errors & omissions insurance is usually optional in many states when it comes to becoming a notary public having an appropriate bonding agreement is often necessary. It's essential that Notaries recognize these rules so they can defend themselves against negligence or misconduct while still safeguarding their clients financially.
Steps to Obtain a Notary Bond
To get a notary bond, individuals must supply standard information such as name, address and phone number. Those needing this form of notary surety bonds can go to an insurance or bonding business authorized in their state that offers them. Many organizations will provide the necessary instructions for procurement while others offer them alongside other notary products. Submitting the obtained bond is essential So that notaries are obeying rules set by states and protecting clients financially.
How Notary Bond Protects Clients and Notaries

Notary bonds are beneficial for both notaries and their clients by providing legal protection against any form of negligence, fraud or wrongful act. This ensures that the process of notarization is executed in a secure manner while also guarding the professional if a lawsuit arises regarding this action. The notary public bond also serves as an assurance to customers guaranteeing financial safety, should they suffer damage due to errors made during the procedure carried out by a Notary Public. On top of being legally liable in such cases it offers peace-of-mind knowing there will be compensatory backing from these special bonds which prevent harm on either side during each official interaction under law enforcement regulations.
Financial Protection for Clients
Notaries must obtain notary bonds to ensure that clients are provided with financial protection against any errors or omissions they may have made during the process of their notarization. This bond is a guarantee of responsibility for any loss incurred by these mistakes, safeguarding individuals from possible harm caused through omissions policy negligent behavior on behalf of the notary.
In other words, if there were ever an instance where a mistake has been committed while executing duties as part and parcel of the process mentioned above then paying for this insurance policy will cover all costs associated within such an event. Providing peace-of-mind knowing one's interests are secure when working with those authorized for different types matters related to legal documentation procedures like witnessing signatures, document verification etc..
Legal Protection for Notaries
Notaries can be safeguarded from legal proceedings with the help and payment of notary bonds, as these ensure that they perform their work within official rules and regulations. Should any lawsuits arise due to a given notarization process, having this bond in place serves like an insurance policy which minimizes possible risks or liabilities associated with it.
By investing into getting one of these Notary Public Bonds, notaries are actively taking steps towards shielding themselves from potential issues related to notary commission and adhering laws set out by respective states while carrying out duties for clients efficiently and confidently without concerns over legality matters.
Errors and Omissions Insurance: An Added Layer of Protection
Notaries can obtain omissions insurance (also referred to as Errors and Omissions, or E&O) policy to provide an extra layer of security against unintended errors and/or omissions during the notarization process. This form of coverage grants notaries financial protection in case their clients experience a loss due to mistakes made while performing their notarized duties. By purchasing this type of insurance, along with notary bonds,notaries are able show they have taken all necessary steps needed for providing high quality services without any risks involved. Not only does it ensure that both parties remain safe from potential liabilities but also brings peace-of mind knowing someone is safeguarded should something go wrong unexpectedly during the course of work
Coverage and Benefits of E&O Insurance
E&O insurance is designed to protect notaries and their clients from any financial losses due to errors made during the notarization process. This coverage provides an assurance that in case of a mistake, there will be an insurance policy available for reimbursement purposes. To this monetary protection, E&O also offers legal assistance if there is ever a lawsuit related directly with the Notary's actions, blunders or omissions while performing duties pertaining to the said process. Through having this safeguard in place, it enables all involved parties – especially those providing these services-to have faith they are covered against any missteps throughout their undertaking workflows.
Choosing the Right E&O Insurance Policy
Notaries must carefully choose the correct Errors & Omissions insurance policy that meets their own individual requirements and liability risks. To get adequate coverage, notaries should read all of the instructions provided by their chosen insurance company for acquiring an E&O plan. Notary protection from possible liabilities associated with errors or omissions can be achieved through selecting a fitting and reliable policy specific to each notary fails each situation's needs.
Cyber Liability Insurance: Safeguarding Your Notary Business
For notaries and their businesses, liability insurance for cyber incidents is essential in this increasingly digitized world where online notarizations are becoming more common. This type of policy offers protection from any financial repercussions or legal issues that may arise due to data breaches or other cybersecurity risks. Notary professionals must be proactive when it comes to safeguarding themselves as well as those they provide services for against potential digital threats – cyber liability coverage should certainly factor into these preventative measures.
Risks Associated with Online Notarization
Notaries can safeguard themselves from potential cyber threats, like data breaches and attacks which may lead to financial loss, damage of their reputation or legal repercussions. To provide adequate protection they should employ encryption systems, two-factor authentication protocols and regularly execute security reviews. This set of measures will enhance trustworthiness in the digital sphere among clients while also helping minimize any chances for a cyber incident occurring at all.
Benefits of Cyber Liability Insurance
Notaries can safeguard their operations by obtaining cyber liability insurance, protecting them from the financial losses caused by online threats. This protection also offers legal cover in case of any lawsuit related to a cyber event. By getting this coverage, notarization services are given an additional layer of security as technology evolves and increasingly digital worlds take shape. Insurance protects clients in such instances with its safety net that goes beyond simply keeping personal data secure, it keeps all parties safe within these newly virtual spaces too.
Real-life Scenarios: How Notary Bonds and Insurance Come into Play
Notary bonds and insurance can be invaluable in preventing clients and notaries from suffering losses due to various occurrences, such as errors while performing the notarization process or taking copies of documents without authorization. Having these safeguards in place is key for a Notary Public to give their customers peace of mind that they are offering optimal protection. It's essential for both parties involved when engaging in any form of document signing or authentication activities that involve the need for legal acknowledgement under state law which necessitate valid signature attestations by a verified bond-backed officer like Notaries do. As such, investing into acquiring proper coverage through bonded assurance packages with comprehensive insurance policies provide much needed security against wrongdoings during all stages related to carrying out this crucial service safely within applicable laws & regulations.
Summary
As a notary, it is essential to invest in the protection of both your clients and business with notary bonds, errors & omissions insurance, as well as cyber liability coverage. These tools serve as financial guarantees for adherence to laws and can protect from potential losses or damages due to mistakes or oversights on behalf of those performing their duties. Cyber threats are also accounted for when conducting online work through secure insurance policies.
By understanding how these safeguards operate within applicable regulations you will be able put forth trustworthiness while providing effective service that's safeguarded against any unexpected developments such has accidental damage claims arising out of fraudulent acts by you under your profession capacity, which could result serious monetary consequences without proper protection..
Frequently Asked Questions
How much is a $10000 notary bond in Missouri?
A notary bond in Missouri, which provides $10,000 of errors and omissions insurance coverage paid to the notary holder, can be bought for only $50. The amount of this kind of bond is exactly ten thousand dollars.
How much does a Florida notary bond cost?
Notaries in Florida need to obtain a notary bond with an associated cost of $7,500. Remote online notaries must also pay and secure surety bonds worth $25,000 as part of their obligations.
What is the main purpose of a notary insurance bond?
A bond of insurance offered to notaries provides them with protection against losses and damages that may arise if the required laws are not followed. This ensures financial security for their clients and property owners by guaranteeing adherence to proper protocols from these public servants.
How can Errors and Omissions insurance help notaries?
Notaries are offered a full amount of protection, both financially and legally speaking, when errors or omissions occur during the notarization process through Errors and Omissions insurance. This type of coverage shields them from any unintentional blunders that may have occurred in the course of a notarization.
Why is cyber liability insurance important for notaries performing online notarizations?
Notaries must obtain cyber liability insurance in order to safeguard themselves from financial repercussions and legal problems stemming from data breaches or online notarization related cyberattacks. This kind of coverage is a vital way for them to protect against these threats.